Enter Swap Sheet
temporarily disabled
NEW 2005
to add pics to your Swap Sheet ads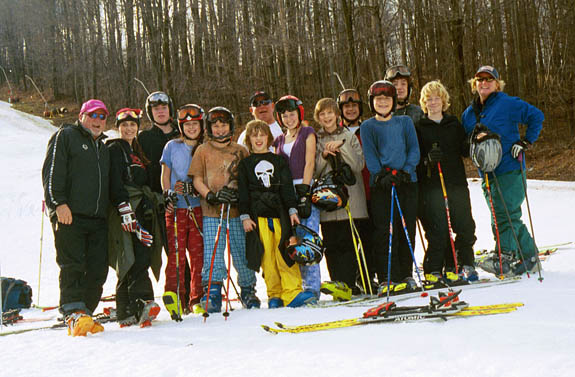 Jr lll Horst Derby Saturday, February 10, 2007 9:30 AM
CENTRAL NEW YORK

SKI RACING FOUNDATION

The Song Mountain Training Center was founded several years ago as a non-profit organization for the development of alpine ski racers. In the early years, a small number of athletes participated in strength conditioning and on snow training. This year's organization has 84 alpine racers assisted by a 14 member United States Ski Coaches Association (USSCA) licensed and certified staff. The goal of the Central New York Ski Racing Foundation (CNYSRF) is to train each athlete physically, technically, and mentally to be prepared for competition. It is an educational program that reaches each athlete's needs in order for them to make decisions and accept responsibilities. The ski racing foundation provides the technical component, which develops and trains athletes for local, state, regional, and national competition. This is to prepare them to fulfill their goals, reaching International FIS, World Cup, and the Olympics. CNYSRF is under United States Ski and Snowboard Association (USSA) / Alpine Division and the US Ski Team, which is one of 40 Olympic sport organizations in America. USSA is responsible for developing competition programs, such as the Central New York Ski Racing Foundation, in skiing and snowboarding, including well managed competitions and professional coaching programs to provide young athletes with opportunities to reach their OLYMPIC DREAM. USSA's vision and mission is simple. The vision of the USSA is to make the United States of America the best in the world in alpine ski racing. The mission of the USSA is to make the vision a reality by fielding and maintaining teams of world-class athletes. We, as CNYSRF/Song Mountain Race Team are a vital step in the process of achieving the mission of the USSA.

Why CNYSRF?...
Junior & College Programs

Internationally-trained Race Coaches

200 (+) Training Hours Per Season

Costs less than $2/Hour

SL, GS, SG & DH Training & Racing

5-Day Christmas Camp

Pre-Season Strength & Conditioning Camp

Sanctioned Competitive Ski Racing

- New York State Ski Racing Association

- United States Ski Racing Association

Certified Coaching Staff of 12

- U.S. & Canadian Coaches Association

- Professional Ski Instructors of America

- Canadian Ski Instructors Alliance

Special Instructional Sessions

- Equipment Selection & Evaluation Ski Tuning & Waxing

- Sports & Nutrition

- Physical Conditioning

- The Psychology of Competition

- Sportsmanship vs. Competition

Social Events

- Year-End Banquet

- Awards, Trophies, Prizes

- Alpine Golf Tournament

- Annual Ski Swap

- Pre-Season Ski Camp
Exceptional Performance Credentials:

CNYSRF excels with racers qualifying for some of junior racing's most prestigious state and eastern championships.

Junior I Nationals

Eastern I, II & III Olympics

Eastern States Invitational

NYS Junior I, II & III Finals

NYS Junior IV State Team

Eastern States Junior IV Camp

Thompson Trophy Series

CNY Council Gold Team

NYS Junior IV State Championships

2,000 Square feet training center, On-The-Mountain, Training Room

Ski Prep Facilities

Race Headquarters

Coaches Offices

"The Deck"